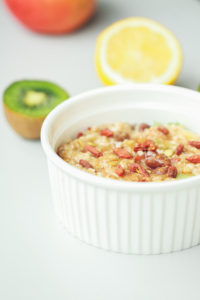 If you are looking for a nutritious breakfast, you should absolutely try this apple cinnamon oatmeal. It contains healthy and flavorsome ingredients, including bee pollen, which is considered one of nature's most completely nourishing foods. It contains nearly all nutrients required by humans. Enjoy!
Ingredients:
– 150 mL rice milk
– 20 g oat flakes
– 1 teaspoon cinnamon
– 1 teaspoon bee pollen granules
– frozen cherries
– goji berries
– 2 apples
– 1 kiwi
Instructions:
Pour the rice milk into a pot and heat until simmering. Add the oat flakes, turn the heat to low and cook for one more minute. Mix it with a chopped kiwi and two grated apples. Add a teaspoon of bee pollen granules, a teaspoon of cinnamon, a few goji berries and frozen cherries.